Crawl Space Repair Contractor
Eliminate your crawl space moisture, mold, and structural problems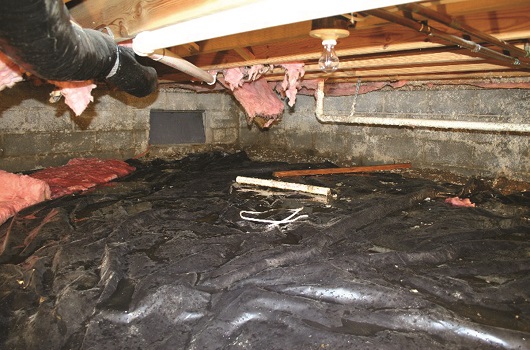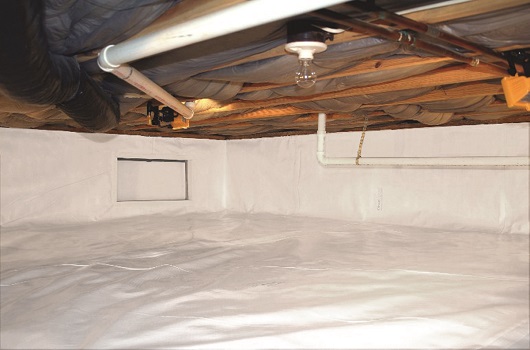 Moisture in a crawl space causes mold and falling insulation. The CleanSpace system prevents these issues.
A damp crawl space is a major problem for your whole home that can cause a variety of issues ranging from mold to rotted floor joists and pest infestation. However, many of these health, safety, and comfort issues can be prevented with crawl space encapsulation, moisture control, and waterproofing.
The expert crawl space contractors at Woodford Bros., Inc. are here to help you repair and encapsulate your crawl space. Contact us today at 1-855-203-6835 or online to schedule your crawl space inspection and free cost estimate in Rochester, Binghamton, Syracuse, Utica, and surrounding areas in New York.
Signs of a Crawl Space Problem
Excess moisture in the crawl space can contribute to:
Musty odors and poor indoor air quality
Feeling of dampness in the living area
Buckled hardwood floors
Mold growth
Allergic reactions and worsened asthma symptoms
Wood rot
Increased energy usage and bills
Pest infestations
Our Crawl Space Services in Central New York
Our Proven System for a Dry Crawl Space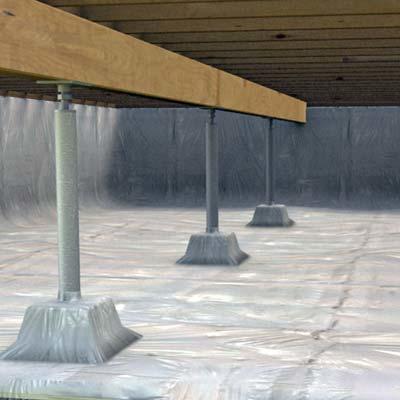 Improve your home's energy efficiency and make it more comfortable with Crawl space encapsulation.
Our complete crawl space encapsulation system is designed to combat your moisture, mold, comfort, and structural problems.
We cover the crawl space walls and floor with the premium-quality CleanSpace 20-mil vapor barrierthat's covered by a 25-year warranty against rips and tears. The crawl space vents are sealed with vent covers that never need painting. A powerful, energy-efficient SaniDry dehumidifier is installed to effectively control moisture and prevent mold.
Our crawl space solutions include:
Vapor Barrier
Dehumidifier
Insulation
Vent Covers
SmartJack Leveling Supports
Sump Pumps & Drainage Systems
Mold Treatment
Get started right with a free cost estimate for your crawl space project
Regardless of what crawlspace issues you have in your home, Woodford Bros., Inc. has the perfect solution. From moisture to settlement, uneven floors, water damage, pests, and more, we have you covered
Remember, an issue with your crawl space is a problem for your whole home. Up to 50% of the air in your home, the air you breathe, passes through your crawl space. If your crawl space is not sealed then this means that mold, dust, humid air, and whatever else is lurking down there is getting into your air. Keep your home safe and healthy with a crawl space system proven to provide years of worry-free performance and protection.
Give your local crawl space experts at Woodford Bros., Inc. a call at 1-855-203-6835 today or click below to schedule your free crawl space repair cost estimate. We offer our crawl space services in Syracuse, Binghamton, Utica, Rochester, and surrounding areas in New York.
Looking for a price? Get a no cost, no obligation free estimate.