Our Basement Waterproofing System in New York
Reliable and effective solutions for all your basement waterproofing problems in Central New York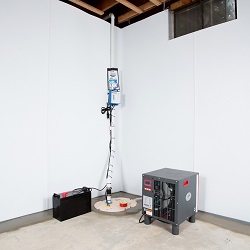 A dry basement is a good basement. We can help you keep your basement dry with a TripleSafe® Sump Pump System (shown here), combined with a SaniDry® dehumidifier.
A damp or wet basement is every homeowner's worst nightmare and can lead to a variety of problems from musty smells to mold. Woodford Bros., Inc. is here to help by providing the best basement waterproofing solutions available. Our expert waterproofers will identify the cause of your issue and then provide the solution that can best eliminate the problem.
Do you have a basement that floods or leaks? Contact us today online or by calling 1-855-203-6835 to schedule your free basement waterproofing cost estimate in Syracuse, Binghamton, Utica, Rochester, and the surrounding areas in New York!
---
What causes a wet basement?
Many people think that heavy rains and obvious standing water are the main causes of a wet basement. However, you can actually have water issues without any of the prior problems. While it's easy enough to see the problem when water is entering your basement, the real cause can be harder to identify.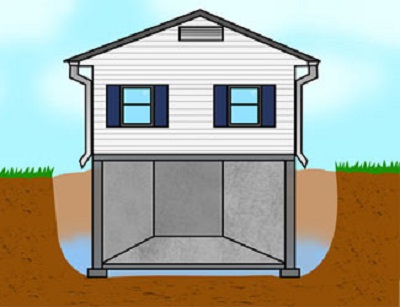 The Clay Bowl Effect
When you foundation and basement is put into place, the area around it is filled in with replacement soil. However, because this soil is relatively new, it is far less dense and tightly packed than the soil that was never touched. This makes it easier for water to flow through this soil and therefore it collects in this area, putting pressure on foundation walls and causing cracks.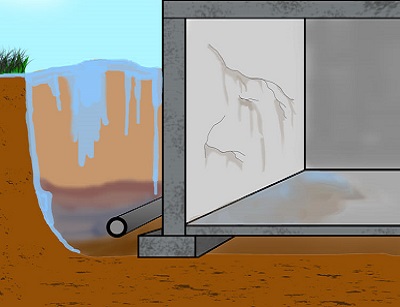 Hydrostatic Pressure
The more water in the soil around your home, the more that soil will want to expand. However, there is only so much room and therefore it will have to try to expand into your foundation, putting pressure on it. The water will then work its way through any opening available, including cracks and openings around pipes or windows.
---
Our basement waterproofing solutions
A wet basement is a major problem. Not only does it cause issues while you own the home, it also makes the home much more difficult to sell since a wet basement is a major red flag to most potential buyers. However, we offer a wide range of waterproofing products and services to help you quickly eliminate your basement waterproofing problem. Our solutions include:
Perimeter drainage systems
Doorway drainage systems
Sump pumps
Waterproof wall and floor products
Wall and floor crack repairs
Replacement windows
Water heater flood protection
Frozen discharge line prevention
Our system comes with a lifetime written warranty that's transferable to the next owner, so not only does our system restore value to your house, but it also gives homeowners and buyers confidence that their home is protected.
Six great reasons to choose us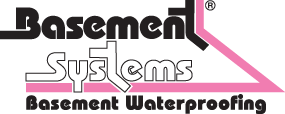 Quality products: Basement Systems® dealers use a complete line of patented, award-winning products that have been keeping basements throughout North America dry for over 25 years.
Fast installations: Our system installs quickly, with most projects completed in just one to two days.
Experienced crews: A crew of experienced contractors will arrive to install your system quickly and professionally. Each one is a waterproofing specialist who dries basements every day.
Cost-effective system: Our waterproofing system can be customized to fit your budget, and it costs about half as much as an exterior waterproofing system. Our system works for both finished and unfinished basements.
Locally-owned and operated company: Woodford Bros., Inc. is the locally owned and operated member of the Basement Systems network. We have products and training that simply can't be beat!
Free waterproofing quotes: We offer free waterproofing quotes to homeowners in our service area. Our quotes come in writing, and there's no obligation!
Get that water out of your basement today with our expert basement waterproofing services
We pride ourselves on experienced crews of waterproofing experts who've seen it all and know how to fix every type of leaky basement. At Woodford Bros., Inc. we know just what it takes to keep your basement dry all the time!
Do you have a leaky basement, flooded basement, mold, mildew, or a musty smell? Don't wait and let the problem get worse. Give your local expert waterproofers at Woodford Bros., Inc. a call at 1-855-203-6835 or contact us online today! We offer free basement waterproofing cost estimates in Syracuse, Binghamton, Utica, Rochester, Liverpool, Ithaca, Rome, Elmira, Endicott, Auburn, Watertown, and the surrounding area. When you call you can count on our specialists to quickly visit your home and provide a thorough inspection.
Looking for a price? Get a no cost, no obligation free estimate.